SAFELY KILL >DANGEROUS< FLEAS & TICKS WITHOUT CHEMICALS!
2022 TOP RECOMMENDED PRODUCT BY PET LOVERS
WE'RE #1 FOR THE SAFEST COLLAR IN THE MARKET!
Unlike other brands of Tick Collars, we have used organic ingredients and tested them extensively to ensure safety for our loving pets! 
PURFECT FOR THE FURRY FRIEND IN YOUR FAMILY!
BENEFITS:
Easy to Adjust: Simply put it around your pet's neck like a regular collar and cut off the extra for a perfect fit! 
Comfortable: Breathable, non-greasy, and no weird chemical smell!
Waterproof: No need to waste time taking the collar off each time your pet takes a bath! Just Set it and Forget It!
Non-Toxic: Created with ONLY 3 essential oils, citronella, lavender, and linaloe oils and that's it! 100% Natural Ingredients that are suitable for allergic and sensitive pets (seizure-friendly).
Safe for Humans: Using Non-toxic organic ingredients to kill fleas and ticks, children and nursing moms will still be able to play with pets while being totally safe!
STOP OVERPAYING!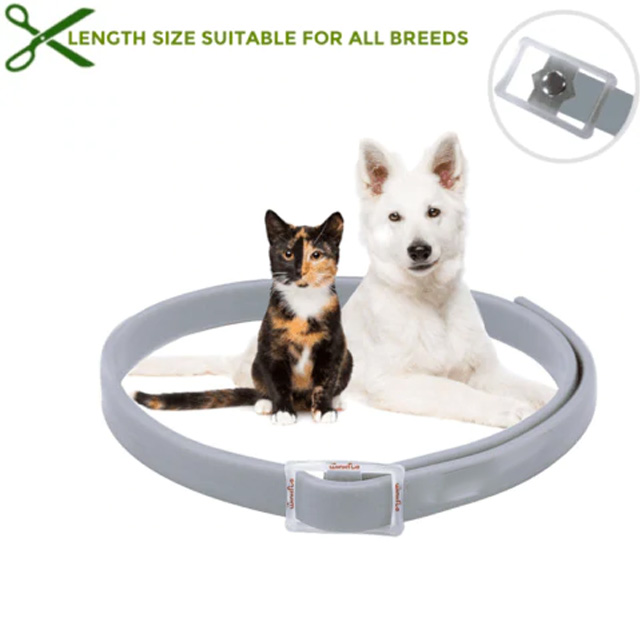 Guarantees to alleviate Flea, Tick, Mosquito problems so you can live stress-free about your pet's well-being.
ADDITIONAL DETAILS:
Larger Breeds (connect 2 collars together to form 1 extra-large collar)
Dog Collar Length: 25in / 63cm (for larger dogs, buy 2 collars and connect them together to form 1 extra-large collar)
Cat Collar Length: 13in / 33cm
Key Ingredients: Citronella, Lavender, Linaloe
STOP THE CYCLE!
Ticks can cause serious damage to the health of our pets, while the greatest danger is not in the bite, but in those diseases that the insect carries.
We know parasite problems can be tough and expensive to fix, the good thing is we can now avoid them.
HOW IT WORKS
(FOR FLEAS/TICKS/MOSQUITOES)
Safely releases natural active ingredients over your dog's body, pests are gone when in contact with these ingredients.

TESTIMONIALS

WHY IS WAGGIE THE BEST CHOICE?
✓ SAFEST Flea & Tick Collar on the Market!
✓ Effective preventive for Fleas & Ticks!
✓ Veterinarian Rated ⭐️⭐️⭐️⭐️⭐️ 👨‍⚕️
✓ Saves $$$ – More Affordable than an expensive Vet Visit + It's FREE Shipping
✓ Live Stress-FREE Knowing Your Pet's Health is in Good Hands
✓ Best Investment for Pet Lovers!
🐶 Order Now & Stop Deadly Parasites! 🐈