Snuggle Up with a Soft Elephant Pillow!
Ensuring your baby gets enough sleep is one of the most important things you can do as a parent. But when they're tossing and turning, it can feel like an impossible task. You've tried everything from music to 'NOcry' Sleep Solutions products, but nothing seems to work. That's where our Plush Elephant Pillow comes in. This adorable plush elephant pillow is perfect for snuggling up to your kids while they sleep, providing comfort and support. Your child will love the cuddly softness of these elephant-shaped sleeping pillows.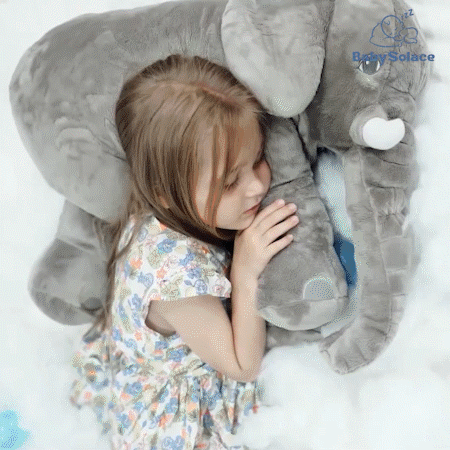 The plush fabric is gentle on delicate skin, and the pillow is filled with just the right amount of stuffing to ensure a comfortable sleep.
Here's Why Parents Adore Our Plush Elephant Pillow
✓ Gently Soothing: Softness to the touch, these pillows are stuffed with 100% certified-organic cotton.
✓ No Allergic Reactions: Hypoallergenic and anti-bacterial, these pillows have an organic material that is gentle on the skin.
✓ Snuggle up with an elephant!: Incorporate some extra warmth into the house by keeping these pillows at home or taking them on holiday or camping trips.
✓ Goodbye to Stress: The elephant design will serve as a companion to your kids making them feel relieved and feel safer.
✓ Best Gift Ever: Nothing will bring a smile to their cute little faces like this pillow.
✓ Easy Care: The polyester fibers and zipper closure make the pillow easy to clean.
✓ A Plush Friend: Kids love animals and this elephant pillow will be just what your little one needs. Its design is friendly and can be used as a toy too.
Why Wait Any Longer? Grab Yours Today And Give Your Kids The Best Sleep!