Are You Finding It Difficult To Reach And Clean Your Feet While Having Sore Painful Joints? 
The FeetScrub™ Pro is perfect for anyone who is looking to clean with ease and exfoliate their feet after a full day of wearing closed shoes which can lead to a lack of moisture and dead skin accumulating.
Effortlessly clean without having to bend over and exfoliate your skin while massaging them all in one go!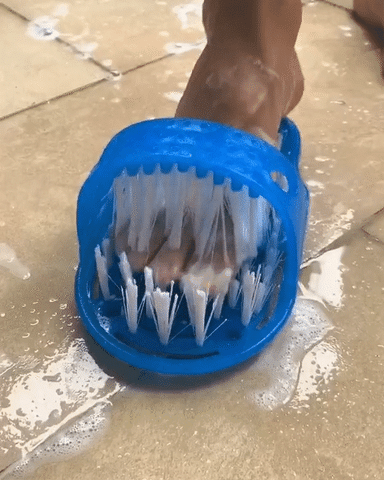 With in-built 9 suction cups, simply place the FeetScrub™ Pro on a smooth floor and without built-up foam for better suction!
Common Problem Everyone Faces
Dry skin, corn calluses, and blisters causing infections are very common in our day to day basis. Our FeetScrub™ Pro can get right between your toes to remove all the loose, dead skin that can collect bacteria and boosts blood circulation!
Improve Blood Circulations
Poor blood circulation in the feet is sometimes caused by inflammation in the blood vessels, known as vasculitis. Lack of oxygen or poor blood circulation restricts muscle growth and development leading to muscle pain, stiffness, or weakness. Improving blood circulation relieves aches and pains and is also a great stress reliever.
Never Have To Bend Down With Sore Joints
For some it's almost impossible to reach down, and yet our feet require more scrubbing than most other areas of our body. Dead skin, smells and painful, cracked heels can be a real problem and can lead to all kinds of fungal and skin-related issues. No more bending over, getting dizzy and falling!
Feel Relaxed More Than Ever
Study shows receiving massages down at your feet can reduce stress level and help you be more relaxed! More than 1000 soft cleaning bristles on top and bottom, together with an embedded exfoliating pad at the heel which gently cleans and exfoliates your feet soft and effectively.
Perfect For Travelling
Are planning on your next camping trip or heading down to the beach? We all know someone who needs this bad! No more having to remind them to wash their dirty feet before crawling inside that tent! Lightweight and easy to take with you on the go.
Ultimate gift
Looking for the perfect gift for your loved ones? Give them a surprise for their birthday that they'd never guess in a million years!