ENJOY A COMFORTABLE RIDE IN YOUR CAR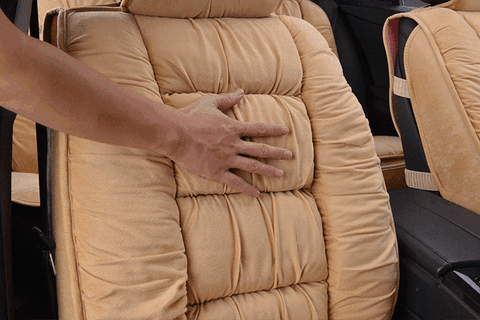 WHAT MAKES CUSHIONED CAR SEAT COVER DIFFERENT
Whether it's a commute to work or a long trip, this seat cover guarantees maximum comfort all the way. Unlike any other cover on the market, the Cushioned Car Seat Cover allows you to feel on a comfortable sofa while on the road. It fits perfectly in any front seat of any car, be it SUV, regular, or even truck.
PROTECTIVE AND DURABLE COVER FOR EVERY CAR ENTHUSIAST
We know how much some people love their cars. Now you can be proud of yours as all seats are safely covered. Made from high quality and durable materials these covers stay in place during use and do their job well. We use innovative fabrics, plush and design. This cover protects against chips, stains, fading, dirt and pet hair. These covers protect your car seats from dirt, wear and tear. No more restrictions in your car. Anyone can ride.
AWESOME FEATURES

Car Seat Covers have all greatest features that satisfy all your needs
PREMIUM QUALITY : 
Made of high-quality and durable materials. We use innovative fabric, plush, and design. Protects against splits, stains, fading, dirt, and pet hairs. These covers protect your car seats from dirt, wear and tear.
SUPER COMFY :
Comfortable plush cloud cotton padding, filled with small squares to effectively relieve the fatigue caused by driving. Comfortable and durable plush fabric. Has good elasticity, not easy to deform. Helps relieve neck and waist pressure, giving you a comfortable driving experience. Warm and comfortable plush cushions for autumn and winter.
EASY TO INSTALL :
No professional installation is required.Easy to install.
GOOD HEAT RESISTANCE AND COLD PROTECTION

In the cold, this seat cushion will help to keep warm when sitting on your office chair or vehicle chair, also the soft material will bring you more comfortable feeling. No more sitting in the cold car seat! Adjust within minutes and the car seats will give you warmth, comfort and satisfaction just like at home. In addition, the car seats are now safe from any activities of children, pets or food in the car while driving. Enjoy the ride!
      SPECIFICATION 
Product Name: Car Seat Cover 
Color: Black, Beige, Pink & Brown 
Type: Seat Covers & Supports