TURN THE LIGHTS OFF!
YOU NEVER HAVE TO BOTHER ANYONE WITH BRIGHT LIGHTS AGAIN! WHETHER IN THE CAR, IN BED, OR DURING A MOVIE, STITCH AWAY WITHOUT WORRY!
See every stitch clearly, even in the dark! StitchSaber gives you more options on where you crochet! The unique lighted hook lets you stitch dark yarns in low light, or even in darkness! Similar in size to a traditional hook, StitchSaber feels familiar in your hands!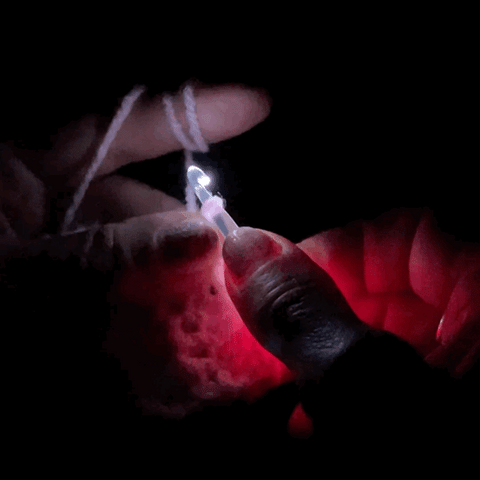 Crochet anywhere, in any light! No need to carry a separate light or turn on overhead lights.
Familiar size, no need to adjust your technique! The ergonomic handle feels balanced and light on your fingers and with 9 interchangeable hooks, you always have the right tool for the job!
Stitch for a full day on one charge! On a full charge, StitchSaber will stay lit for 7-9 hours depending on which brightness setting you use. If that's not enough, it will recharge in only 15 minutes!
Clear hooks make counting stitches easier! Even if you don't use the light feature, the transparent hooks make it easier to see your stitches.
Don't miss out, get yours today!
LIMITED STOCK AVAILABLE, ADD TO CART NOW!
What's Included

(1) Ergonomic lighted handle
(9) Interchangeable hooks (2.5mm, 3.0mm, 3.5mm, 4.0mm, 4.5mm, 5.0mm, 5.5mm, 6.0mm, and 6.5mm)
(1) USB Charging cable
(1) Hook wrench
(1) Padded travel case
Specifications
Size: 6.1″ long w/hook attached
Case Size: 7″ x 3.9″ x 1.3″ (18cm x 10cm x 3.3cm)
Working Time: 7-9 hours on full charge
Charging Time: 15 minutes
Battery: Lithium
Light: LED
Lighting Modes: 2 brightness settings, low and high.
Materials
Handle: ABS & Silicone
Hooks: Polycarbonate
Our Promise to You
At LushisLife, we take customer satisfaction seriously! If there are any problems with your order, we will do everything in our power to make it right! We're not out to make a quick buck, we want to make a positive difference in your life!
Guarantee
All LushisLife products are backed by our 30-day money back guarantee. If your order does not meet your expectations, we will replace the product or refund your money.