Improve your body and mind with a natural Asian solution!
Traditional Wisdom: Nuubu was inspired by Centuries-old traditional Asian knowledge, passed on by generations. True trust is earned by passing a test of time. Nuubu is made of natural herbs and herbal extracts. Forget about harmful, toxic chemicals and embrace the soothing power of nature!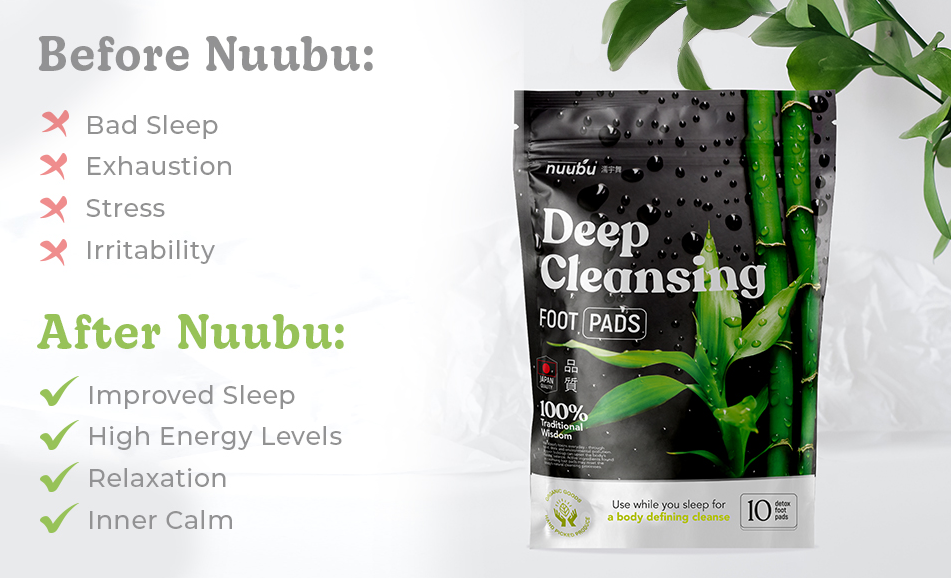 Detox Through Sweat: Nuubu is a revolutionary detox foot patch that can greatly increase your sense of wellbeing. Nuubu supports the body's natural way of removing toxins through activated sweat glands.
Holistic Approach: Tackle the cause, not the symptoms – your body is riddled with toxic elements, which may harm your wellbeing and increase stress. Using sweat detox and vitamin infusion Nuubu helps you to strengthen your mind, body, and soul!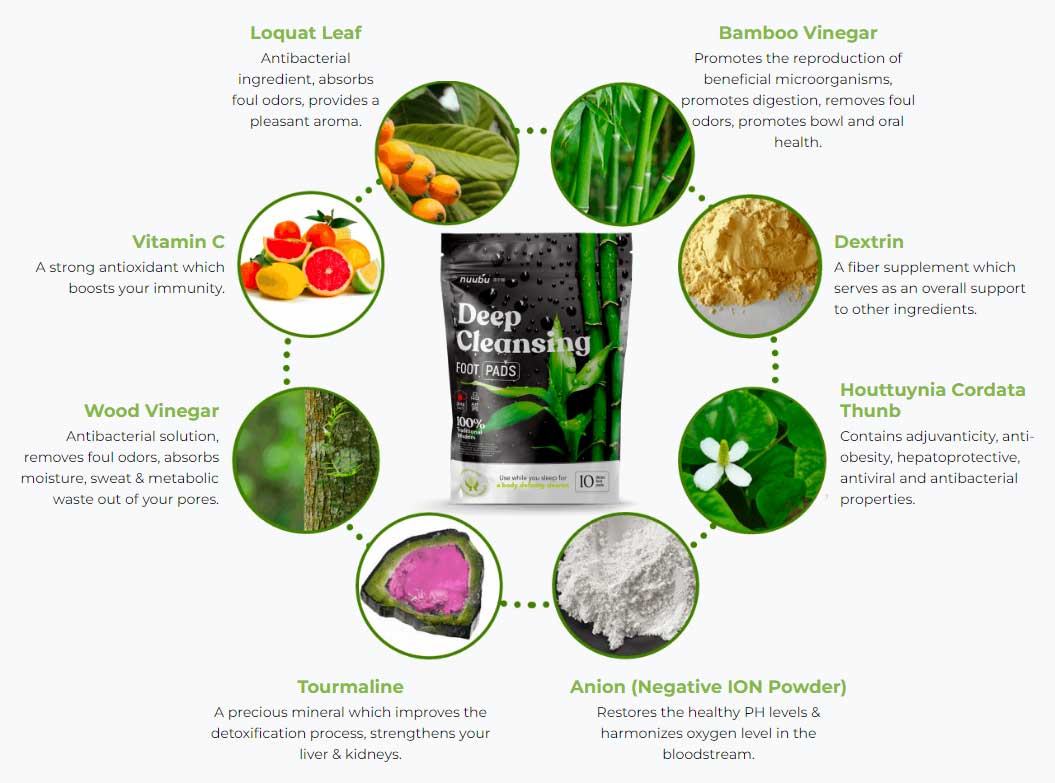 100% Natural Ingredients and Their Benefits
Loquat Leaf: Antibacterial ingredient absorbs foul odors and provides a pleasant aroma.
Bamboo Vinegar: Promotes the reproduction of beneficial microorganisms, promotes digestion, removes foul odors, and promotes bowel and oral health.
Dextrin: A fiber supplement that serves as overall support to other ingredients.
Houttuynia Cordata Thunb: Contains adjuvanticity, anti-obesity, hepatoprotective, antiviral, and antibacterial properties.

Anion (Negative ION Powder): Restores the healthy PH levels & harmonizes oxygen levels in the bloodstream.
Tourmaline: A precious mineral that improves the detoxification process, and strengthens your liver & kidneys.
Wood Vinegar: Antibacterial solution, that removes foul odors, and absorbs moisture, sweat & metabolic waste out of your pores.
Vitamin C: A strong antioxidant that boosts your immunity.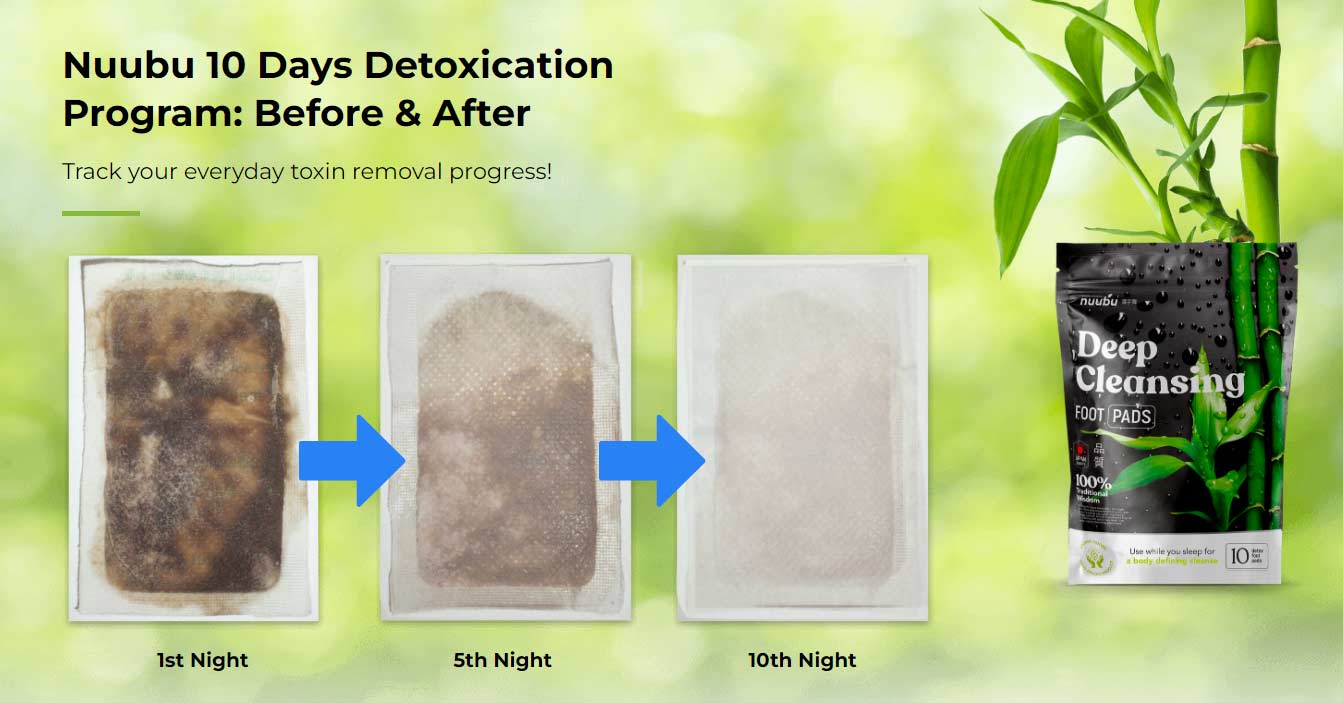 Natural Body Toxin Removal:
New Way to Improve Your Life

A Secret to a Stress-Free Living

Tired? Stressed? Fatigued? You are not alone – our lifestyles are extremely taxing on our bodies and minds alike. Headaches, bad sleep, and stress are the unfortunate hallmarks of fast-moving modern life. Active ingredients that are found in the Nuubu foot patch are known for their ability to remove accumulating harmful elements from your body, which can greatly improve your sense of wellbeing!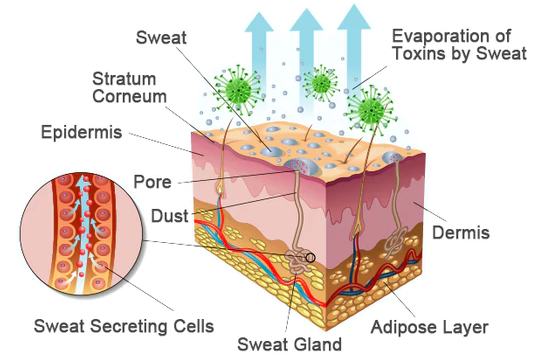 Traditional Medicine gets Modern Upgrade

According to Japanese traditional knowledge, the human body has over 360 acupuncture points, with more than 60 points found on the soles of the foot. Nuubu combines tried-and-true Asian techniques with a sleek and modern approach – attach the herbal-remedy-based patches to your feet and wait a few hours for the toxin removal through your sweat glands. It has never been that easy!
Natural Approach

Are you tired of hazardous man-made chemicals being used in every aspect of your life? There is a better way to harmonize your lifestyle! Nuubu foot patches are made using natural herbs similar to ones found in the remote East-Asian mountainsides. Forget the harmful toxicity and side effects!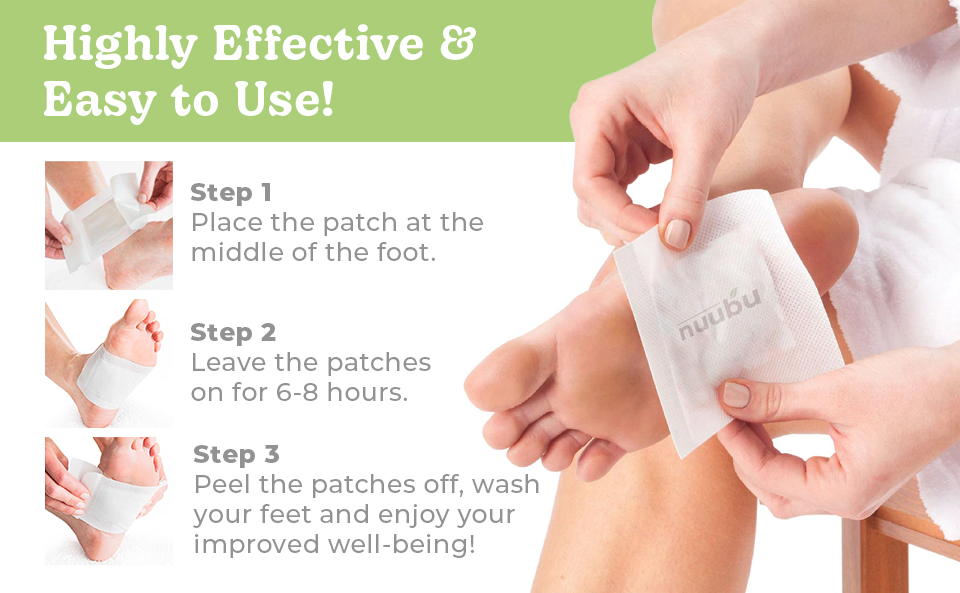 How to Use
Toxic Elements Accumulate in Your Feet. Nuubu Foot Patches Help to Remove Them!
Step 1:
Place the patch in the middle of the foot. The soft side of the patch should contact the skin.
Step 2:
Apply the second patch on the other foot OR another part of the body you wish to remove the toxins from.
Step 3:
Leave the patches on for 6-8 hours. It is recommended to apply the patches before sleep.
Step 4:
Peel the patches off after 6-8 hours of use. Wash your feet and enjoy your improved well-being!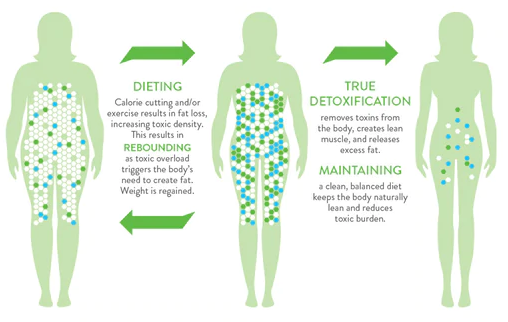 Frequently Asked Questions
Q: How does Nuubu Detox Patchwork?
A: Nuubu is a patch that when applied to the skin, induces sweating in that area that is covered by the patch. By doing so Nuubu may support the body's natural way of removing toxins through activated sweat glands
Q: Is Nuubu reliable?
A: Nuubu is designed by the top specialists in traditional Japanese wisdom. The ingredients used in Nuubu have been tested through generations to deliver you the best, top-of-the-line solution to toxin accumulation.
Q: How do I know if Nuubu works?
A: Nuubu helps to induce sweating and according to scientific proof, sweating may help with the reduction of some toxic elements in the body. Nuubu patches also contain an area that is infused with various vitamins and elements. When in reaction to sweat these elements cause the change of color of the patch. Thus, if a user sweats extensively while using Nuubu, the color of the patch should be visibly darker after the use.
Q: How long should I use Nuubu?
A: The positive effects of Nuubu should be felt after a couple of uses, however, feel free to use the detox patches as long as you feel the need! Your wellness has no limits.

🔒100% Risk-Free Purchase

If you don't have a positive experience for ANY reason, we will do WHATEVER it takes to make sure you are 100% satisfied with your order.
If you want to checkout with Credit Card. Please Click Paypal and Search for 'Pay with Debit or Credit Card'
Enter your Payment details, your Billing Address, and your Contact Information.